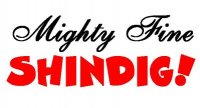 Oh God, oh God, we're all going to dine!
THIS YEAR IS GOING TO BE VERY, VERY SPECIAL!!
For those who have been waiting to hear it, YES! There will be a Third Annual Browncoats Backwoods Bash. It will be held on Saturday, September 18th, from 11am-??. The location will be the Butternut Shelter at SpringMill State Park, just south of Mitchell, IN on SR60. The shelter is just a few hundred yards from The Pioneer Village, which will have an exhibit of old-timey crafts and lots of 19th century style music and dance. Admission to the Park is $5 per carload, but the Bash is, of course, FREE!
The local charity we benefit is Middleway House in Bloomington. They're a Shelter for and Counseling Center for abused women and children; a very worthwhile cause. lat year we rasied almost $400 and we hope to surpass that figure this year.
For those not in the know, The Browncoats Backwoods Bash is a Charity Pitch-in Picnic, featuring fun activities for Firefly and Serenity Fans. Every year, we feature "Good Dogs", "some kind of hot cheese", Apple Slices (grenades cost extra), and other tasty treats provided by those attending.... YOU, in other words! We also feature swag to purchase (with the proceeds going to charity), Firefly and Serenity-related videos to watch, and the sheer fun and cameraderie of sharing our love for the Sereniverse. THIS year, however, will have some exciting new events:
David Dent and Heather Ackroyd, from Annapolis MD have cleared it with Producer/Director Mike Dougherty, and they will be bringing a DVD of BROWNCOATS: REDEMPTION for us to watch!
Dave and Heather are attempting to make a video Q&A with Mike Dougherty, the director, just for us. I have been assured that Mike will be providing us with copies of the film for purchase, and we have have other goodies as well.
This year is the Fifth Birthday of the BigDamnMovie, so we WILL be watching Serenity this year as well. Sereniversary has always been about grass-roots, local Charities, so I hope those who attend will be extra generous this year.
So, there you have it: This year looks to be bigger and better than ever. The only thing missing is YOU, and every Browncoat you can send a Wave to about this. We hope to see you there, and please don't forget to Spread The Word!!
Invite YOURSELF to the Facebook Event Page!
Learn about the Southern Indiana Browncoats
TENATIVE SCHEDULE OF EVENTS, SUBJECT TO FLEXIBILITY

10am-11am, Arrival and setup of swag and food. Cooking of the "good dogs" will begin ASAP.

11-11:30am, Meet and Greet, and the beginning of the Good Eats :D

Noon-2pm The BDM will be shown during the meal. Other activities at this time? Swag Table will be available, and I will have an exhibit of Sereniverse collectibles, including actual props from the Film and Series for folks to look at.

2-2:30pm, Costume Contest, with fabulous (read, inexpensive) prizes for the best Costumes. Swag table still open, probably until we all decide to leave lol.

2:30-4pm, Open time. Feel free to gather up a tour group to see the Pioneer Village and experience period costumes and music. If that's not your thing, stick around for Serenifly trivia from the "Done the Impossible" DVD, or enjoy the playground which is less than 75 feet away. If I can get volunteers, we'll play a game called "Gorram Shiny", a variation on "Hip-hip Hooray".

4pm-6:30-ish, "Browncoats:Redemption" will be shown, with Mike Dougherty's Q&A, if it gets made [IT WILL]. We are still accepting Questions for this interview.

After that, it's anyone's guess, but we could always use a hand getting all the goods back aboard the Midbulk Transports. Any and all help appreciated! :D